3ds Max Exterior & Interior Visualizations 2.0
Online video course for 3ds Max, Corona & V-Ray, and Adobe Photoshop for beginners and intermediate artists.
The one-core system
Behind EVERY
fabulous image…
For years, we've been determined to uncover the secret to creating stunning 3D images. After countless hours of research and experimentation, we've finally cracked the code! Our well-honed system has helped us capture the attention of viewers, present our work to the highest standard, and use the software as an artistic tool. This powerful and proven method will help you achieve the incredible results you have always dreamed of. Unlock the potential of your work and make it stand out with our tried-and-tested approach. Get ready to take your 3D artistry to the next level!
Use full potential

How much is it worth to you to finally start using your artistic potential on a higher level?

Beat your competition

Do you want to get the recognition you deserve, become unique, and build your own brand?

Become a professional

Would you like to be perceived as a professional and an authority in your industry?

Make it profitable

How much more can you charge for your images when you'll be at your highest level?

More opportunities

You will expand your life choices no matter who you work for, you will have more opportunities.

Aim to be the best

It is the shortest way to become a great 3D artist. Don't waste time trying to learn by yourself.
Take a big leap
Join our training
4 Exterior Visualizations shown from start to finish – see the images below.

4 Interior Visualizations shown from start to finish – see the images below.

Start and Final Scenes to work along with the videos and check your progress.

Updated Software – 3ds Max 2024, Corona 9 & V-Ray 6

3D Modeling module for interior & exteriors.

8-Step System explained in theory & in practise.

80+ Lessons that will teach you all about visualizations in 3ds max.

2 Render Engines. Each lesson is available in Corona & V-Ray* version.

Final Exam after which you'll get a certificate.

Lifetime Access. You can endlessly re-watch the course.
After the purchase is made, you will instantly get access to the full training. Login details will be sent to your email.

Want to purchase more than 1 license for your team?
Contact us at contact@archvizartist.com for business inquiries.
Learn to create stunning 3D visualizations with Corona Renderer and VRay in this comprehensive two-part training, perfect for beginners and intermediate artists.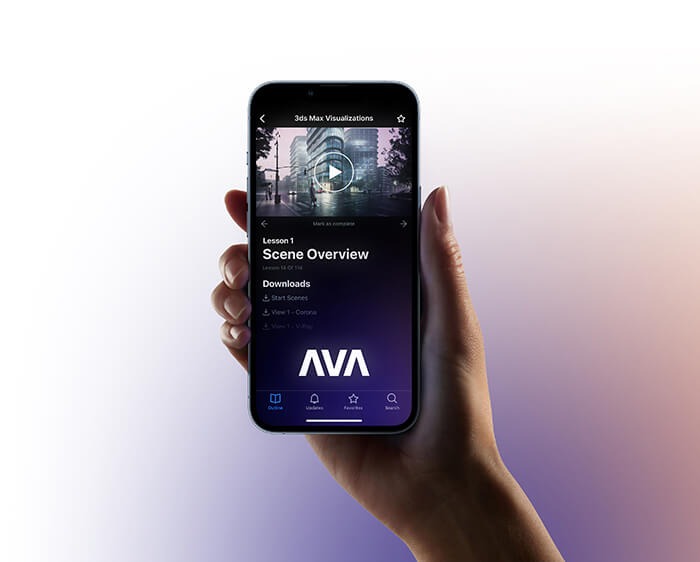 Meet the instructors
Agnieszka & Adam
We've been perfecting our 3D art for years, honing our techniques and honing our eye for the artistry of visualization. We discard the ones that don't work and focus on the ones that have had a positive impact on our work. In our training, we share only the most effective methods that we use to create stunning visuals. We also emphasize the importance of viewing 3D images from an artistic point of view, and teach how to apply this knowledge in practice.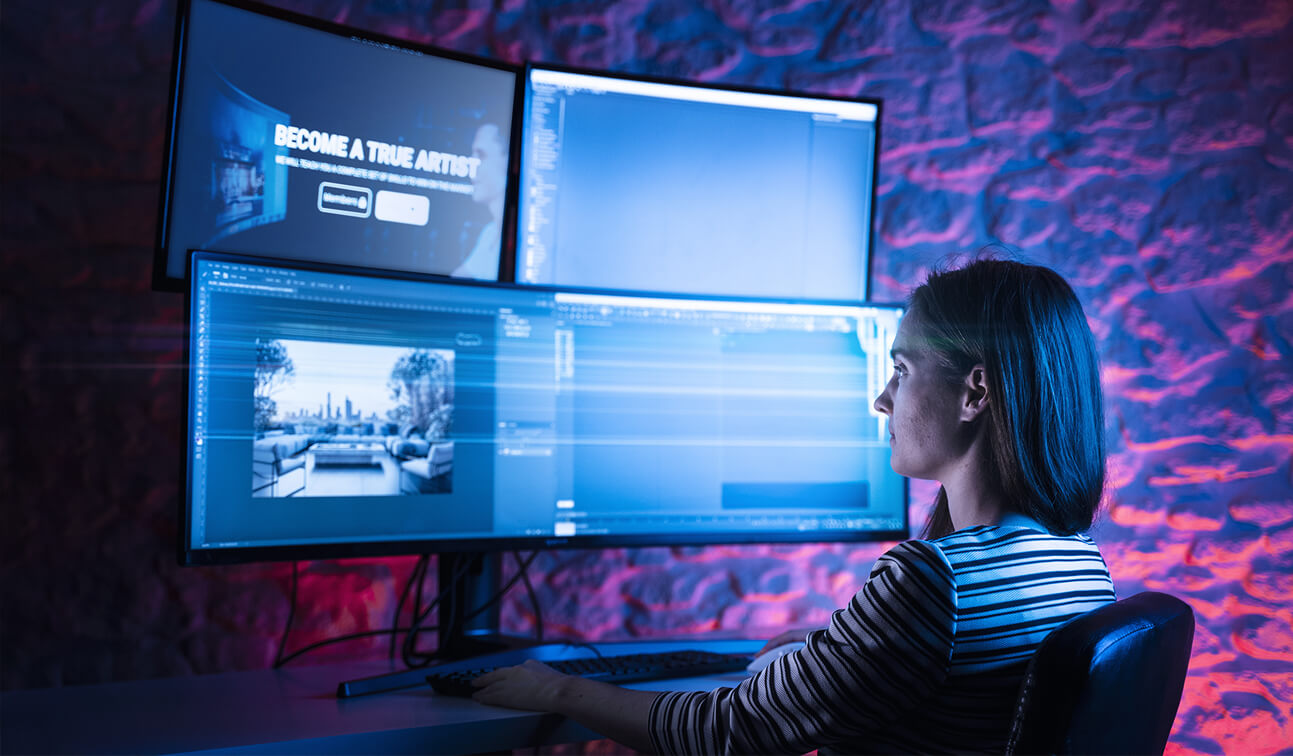 Practice does not make perfect
Only perfect practice
makes perfect
Being a 3D artist gives you the chance to create a lifestyle as you wish. Whether you want a full-time job at a studio, become a freelancer, or launch your own business, the possibilities are endless. We'll teach you the best practices to make sure you don't waste time learning the wrong techniques. Explore the opportunity to create the lifestyle of your dreams. Let's take the first step and make your dreams a reality!
8-steps system
Composition

The balance between essentials and minutiae in the image.

Camera setup

Setting up the camera angle that influences the viewer.

Lighting

Affecting emotions through the different lighting scenarios.

Color palette

Using the power of the colors in order to convey the message.

Materials

Creating high-quality and photo-realistic materials.

Assets Placement

Arranging assets to show the character of the place.

Storytelling

Creating additional value through the story.

Post-Production

Enhancing the image as a professional photographer.
We will present these visualizations
From start to finish
This system will work for you
every time!
For who
Who should attend?
Total beginner in arch-viz

Start your 3D journey today with us! We'll guide you step-by-step through the basics of 3ds Max, Corona Renderer, and V-Ray, so you can confidently begin your creative exploration.

Architect / Interior designer

You will master 3D software to showcase your ideas in a professional manner that will capture the attention of viewers. With the right focus, you will be able to present your work to its fullest potential.

In the arch-viz for a while

Take your 3ds Max, Corona Renderer, and V-Ray skills to the next level by mastering an artistic approach with 10 practice-based scenario images. Improve your image-making and stand out from the crowd.
Sample lessons
Check it out before you buy it!
Features
What will you learn?
Basics of 3ds Max

Learn 3ds Max from the ground up. Our quick, comprehensive lessons will help you master the program without wasting time on unnecessary information. We'll also show you the best ways to organize your files and folders, helping you to keep your work tidy and secure. Plus, a good folder structure will save you time and prevent you from misplacing files. Get ready to streamline your workflow, and get the most out of 3ds Max.

3D Modeling (Interior & Exterior)

Learning 3ds Max modeling is essential for any 3D artist. Even though we don't usually create models (we receive models from clients and purchase pre-made assets), occasionally, when the need arises, we must swiftly produce or edit an existing model to meet the client's requirements. In this course, we'll take you step-by-step through the basics of creating an interior. You'll learn how to create a complete interior from start to finish, including windows, floor, and doors. We will also show you how to model buildings from exterior scenes.

Camera setup

Choosing the right camera angle is a crucial part of creating compelling visuals. It can be the most challenging part of the process. The details, architectural highlights, and surrounding context change the perception of the image based on the camera angle. By learning the composition rules and best ways of setting up cameras in 3ds max, you can ensure that your visuals have the desired impact.

Lighting setup

Lighting is a key element in capturing emotions and setting the tone of any image. With the right lighting, we can change the atmosphere, mood, and sense of depth. We will take you through the basics of all lighting scenarios, such as daylight, overcast, sunset, and night, for both interior and exterior shots. Learn how to master the power of light to bring your images to life.

Materials

If you want to create photo-realistic materials, you must be an attentive observer of the world around you. This is a fundamental skill in creating stunning visuals that will wow your viewers. We'll show you how to create materials that look and feel real, so your work will never be doubted. Get ready to craft materials that will make your image stand out!

Grenery Scattering

At the end of our course, you will have learned how to manually position objects to create the perfect composition but also how to use the Chaos Scatter tool to quickly and easily scatter greenery in your scene. You won't need any additional plugins, as this tool is built-in to the software. This knowledge will save you time on future projects and enable you to create beautiful landscape compositions with plants, stones, etc

Storytelling

Adding story to visualizations is essential if you want your image to stand out and capture attention. In this course, we'll cover the concept and demonstrate various methods of incorporating story into images. You'll learn how to incorporate storytelling elements to engage your audience and create a compelling narrative. By the end of the course, you'll understand how to effectively communicate your message through visuals, and be able to create stunning, attention-grabbing visuals that will engage your audience.

A.I.

Artificial intelligence is getting better and better, and the tools using it are being improved quickly. With the market constantly changing, it is important to stay ahead of the curve and remain competitive in the industry. For this reason, we decided to include bonus techniques where we present to you how you can use A.I. for your advantage.

Post-production

As 3D artists, we understand the importance of post-processing to get the best results – which is why we are here to show you how. We strive to create the best image in the 3D software and only give it subtle improvements in post-production for the best results. We'll teach you how to use Photoshop to enhance your visuals, as well as how to save time and post-process your images directly in 3ds Max. Learn how to save time and perfect your images in post-production by using our step-by-step instructions.
Learn this
in just

few weeks
or spend years trying to learn it by yourself
Get there in just 4 weeks!
You can do it faster or slower depending on your needs and desires.
Day 1 – You have software basics in your finger tip, as well as you know how to manage your files.
Day 2 – You know the modeling basics and you've already modeled an interior.
Day 3 – You have modeled more advanced objects, like windows and kitchen and you have compelted the base model.
Day 4 – You take this day to practise camera setup.
Day 5 – Lighting
Day 6 – Day 7 –
Curriculum
The training program
Part 1 – Basics
First steps in 3ds Max

Lesson 1

– Introduction to the training

Lesson 2

– Viewport explained (how to move around)

Lesson 3

– How to adjust the viewport to your needs

Lesson 4

– Preferences / Settings

Lesson 5

– Create objects in 3ds max

Lesson 6

– 3ds max options: select, transform…

Lesson 7

– 3ds max snaps toggle
File management

Lesson 8

– Layers explained

Lesson 9

– Layers setup we use in our studio

Lesson 10

– Project folder structure

Lesson 11

– Import / Export
Modeling

Lesson 12

– Poly modeling basics

Lesson 13

– Modeling interior walls

Lesson 14

– Chamfer edges

Lesson 15

– Floor generator

Lesson 16

– Modeling windows

Lesson 17

– Modeling balcony windows

Lesson 18

– Modeling skirting

Lesson 19

– Modeling doors

Lesson 20

– Modeling railing

Lesson 21

– Modeling kitchen

Lesson 22

– Modeling kitchen island

Lesson 23

– Modeling kitchen tap
Camera setup

Lesson 24

– Camera setup living room

Lesson 25

– Camera setup kitchen

Lesson 26

– Camera setup bedroom
Lighting setup

Lesson 27

– Lighting setup living room

Lesson 28

– Lighting setup kitchen

Lesson 29

– Lighting setup bedroom

Lesson 30

– Second living room shot
Photorealistic materials

Lesson 31

– Material basics explained

Lesson 32

– Materials living room

Lesson 33

– Materials kitchen

Lesson 34

– Materials bedroom
Asset placement

Lesson 35

– Asset placement living room

Lesson 36

– Asset placement kitchen

Lesson 37

– Asset placement bedroom
Postproduction

Lesson 38

– Postproduction living room shot

Lesson 39

– Postproduction kitchen shot

Lesson 40

– Postproduction bedroom shot
Part 2 – Intermediate
Living room

Lesson 1

– Composition

Lesson 2

– Lighting

Lesson 3

– Materials

Lesson 4

– Assets and Story

Lesson 5

– Postproduction
Kitchen

Lesson 6

– Composition

Lesson 7

– Lighting

Lesson 8

– Materials

Lesson 9

– Assets and Story
Dining room

Lesson 10

– Composition

Lesson 11

– Lighting

Lesson 12

– Materials

Lesson 13

– Assets and Story

Lesson 14

– Depth of Field
Bedroom

Lesson 15

– Composition

Lesson 16

– Lighting

Lesson 17

– Materials

Lesson 18

– Assets and Story
Kitchen detail

Lesson 19

– Composition

Lesson 20

– Lighting

Lesson 21

– Materials

Lesson 22

– Depth of Field
Dark living room

Lesson 23

– Composition

Lesson 24

– Lighting

Lesson 25

– Materials

Lesson 26

– Assets and Story
Bathroom

Lesson 27

– Composition

Lesson 28

– Lighting

Lesson 29

– Materials

Lesson 30

– Assets and Story

Lesson 31

– Postproduction
Street

Lesson 32

– Composition

Lesson 33

– Lighting

Lesson 34

– Materials

Lesson 35

– Forest Pack

Lesson 36

– Assets and Story
Swimming pool

Lesson 37

– Composition

Lesson 38

– Lighting

Lesson 39

– Materials

Lesson 40

– Assets and Story
Balcony

Lesson 41

– Composition

Lesson 42

– Lighting

Lesson 43

– Materials

Lesson 44

– Assets and Story

Lesson 45

– Postproduction
What do our students say?
Trusted by 2,000+ artists
from all over the world
Weronika Blitek

Poland
I am very grateful to Agnieszka and Adam for creating Arch Viz Artist Training, it definitely broadened my horizons. The course differs from other courses available online, it teaches photographical and artistic approach, thus making visualisations impossible to distinguish from professional photography. The lessons are short, on point and full of valuable information, which makes watching videos very pleasant. I recommend Arch Viz Artist Training to everyone who would like to take their skill to a higher level and start having fun with light, composition and storytelling.
Nana Nymann

Denmark
I have always worked with the V-ray render engine and wanted to switch to Corona render, found these Arch Viz Artist courses from Black Balance and they looked amazing, and I thought that could be a good way to go. I was totally right. These courses have helped me not only pretty quickly know about corona render, but also gave me good ideas on how I can easier set lights that are more natural and more photorealistic. It also helped me with the storytelling in your project and gave me a totally new perspective on how to work with your scene. I'm definitely gonna buy the other courses they have when I'm done with AVA Interiors & Exteriors Visualizations Training.
Enes Berk Özyurt

Turkey
The course obviously added more to me than it could. Luckily I saw you in the YouTube video and was immediately impressed. And I felt that your prices were very affordable considering the training you provided and that they could add something to me. And instantly bought it. It may be the part I admire the most in the course: I haven't seen so many details in my life, and these have made me look at visualization in an even more different way. This course made me different in every way. It provided motivation, confidence, and encouragement. Frankly, I could not imagine that I would come to such a different dimension.
Wafi Tagleb Sayed Mshawaih

United Arab Emirates
I am so grateful for the efforts that you put into those tutorials, and as a member of (Arch Viz Artist Training – Corona ), I want to express my deep appreciation for your time and efforts which was clear and such helpful in your powerful tutorials, honestly, I found it easy to understand, large amounts of information in a simple way and direct messages through your videos.
Talal Aniff

United Arab Emirates
I've been using V-Ray for the last 4 years, and always wanted to make a switch into Corona. I've invested in many online courses on Corona, but never was able to follow or understand. After purchasing this course, I really fell in love with Corona. The lessons are very easy to follow and understand. Three lessons into the course and I feel like my renders have improved dramatically. I think this is one of the best online courses for any Arch Viz artist looking to learn or improve their renders.
Nemanja Bojić

Serbia
One word I would use to describe this course is professional – from beginning to the end of each lesson the course goes in-depth on everything necessary to create an image: Light balance, materials, post-production in Corona frame buffer, and tips and tricks on how your image can tell a story and have some personality, which I especially appreciated. I would recommend this course to anyone, whether they be complete beginners in Corona or advanced users looking to take their skills to the next level. Can't wait to see what guides Arch Viz Artist team brings us next!
Dávid Goffa

Slovakia
I started this course basically with zero experience with 3ds Max and Corona render. I always feared 3ds Max as something really hard to learn. This course completely changed my mind. After two months I made progress that I haven't made in years. Easy to access video library format and problem solving explained from experienced users made this really great. Learning was much easier. This course also opened doors for me into many different programs. I would recommend it to people that want to learn about 3ds Max and Corona render but don't know where to start.
Baran Özgün

Turkey
The course takes a very detailed look at Corona Render with 3DS Max. It offers you a detailed and fluent starting from the modeling part of the project, to material, lighting, camera and post production. Although I have been using 3DS Max for 6 years, tutorials redound me a lot of new information and perspective. I recommend this course to not only anyone who wants to keep themselves up to date but also, who is new starter on 3DS Max . This has been the most professional and quality education among the courses I have purchased so far.
Debora Vaz

Brazil
The demand to learn Corona Renderer made me look for courses that would teach me how to use it in the best way. That was when I met Arch Viz Artist Interior & Exterior Visualizations course, the classes are great, focused on teaching not only technical aspects, but also artistic ones, such as color composition, correct use of lights, storytelling and other things. My skills have improved a lot, and I recommend it to anyone who wants to become really professional in the arch-viz area!
Sunil Azad

India
I really enjoyed the course. I was very skeptical about the course when I found it because I had tried other courses as well before yielding no major benefit for me. I already had a decent experience with rendering but wanted to improve and increase my level. The training really helped me in recognising the problem I had with my work. I am not a Corona or Vray user, but a Fstorm user. However, the principles taught in the training can be applied to any rendering software. This really helped me a lot. I will thank again to Arch Viz Artist guys for the wonderful training courses.
Brenton Klopp

United States of America
I highly recommend this course to anyone, if you're just starting or have been using Corona for years. There are so many fantastic tips and tricks provide in the workflows, anyone can follow along and create great looking images. The Arch Viz Artist training has helped me work through complicated projects, and I can proudly say that I feel more confident in what i can achieve. I am looking forward to apply everything I have learned in these classes to my own personal work, and I will continue to follow along with Arch Viz Artist and all their amazing material!
Numbers
There's a lot of it
…more than you think.
14

Visualizations will be shown from start to finish during this training including interiors and exteriors.

86

Video Lessons that will teach you everything you need to know to create amazing visualizations.

2

Render engines. Each lesson is presented in Corona & V-Ray versions. You will get 147 lessons in total.

100

+

Lifetime access! Your access will never expire because you might forget something along the way.
Assets & Textures included
Provided by our

amazing partners
All in one package
You don't need anything else to start learning with us
By joining this course, you will be provided with a range of 3D assets, textures and HDRI maps from our amazing partners, so that you can fully benefit from the course. Everything you need to work with will be fully provided or available to download for free, so you don't have to worry about sourcing it yourself.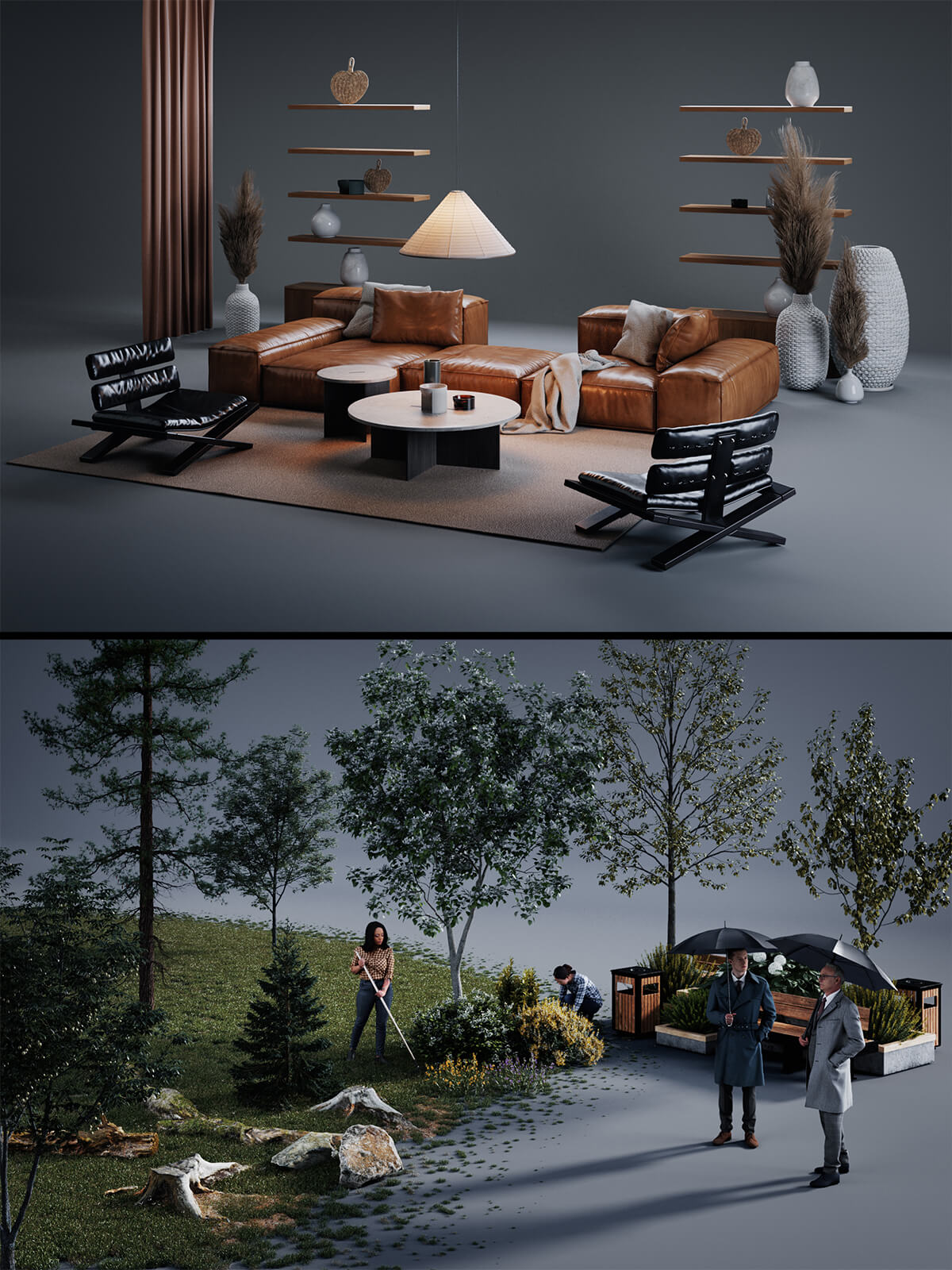 Software
Why do we teach 3ds max?
Architectural visualization studios generally rely on 3ds Max, a powerful program that offers a variety of options to create stunning visuals. With its vast capabilities and access to great plugins, models, and material libraries, the possibilities for creating stunning visuals are virtually limitless. With all of the resources available, 3ds Max is the obvious choice for your visualizations. You can learn other software as well but this, in our opinion, should be the core of your 3D skills.
English is not your first language? Not a problem!
We have subtitles in selected languages:
English

(Audio + Subtitles)

Spanish

(Subtitles)

Arabic

(Subtitles)

Bengali

(Subtitles)

Chinese

(Subtitles)

French

(Subtitles)

German

(Subtitles)

Hindi

(Subtitles)

Hungarian

(Subtitles)

Indonesian

(Subtitles)

Italian

(Subtitles)

Japanese

(Subtitles)

Korean

(Subtitles)

Polish

(Subtitles)

Portuguese

(Subtitles)

Russian

(Subtitles)

Turkish

(Subtitles)
Want to learn even more?
Check out our

bestseller bundles!
FAQ
See if you can discover the answer
here to your question!
This course is for anyone who wants to create architectural visualizations. The 3ds Max basic knowledge is not required as we will explain to you the basics of the software (Part 1 -Basics). This intense course will show you how to become a true artist and the knowledge from this will become the foundation of your future work.

The software we use during the course:
3ds max version 2024
Chaos Corona 9
Chaos V-Ray 6
Chaos Scatter
Adobe Photoshop

This is a principle-based course, versions of the software don't matter at all. You will be able to follow the training using any version of the above software.

Files are saved down to the 3ds max 2018 version. If you have an older 3ds max, you have to save it down on your own.

It largely depends on how fast you study and how much time you spend each day learning. But we can assume that it will take you 4-8 weeks.

You will get lifetime access so you can learn at your own pace without any worries.

Unfortunately, you won't be able to download the files. However, you will be able to watch the tutorials on our website.

You will get the scenes prepered in the start and final versions to all 8 visualizations. All the assets and textures will be included or available to download for free.

You will be able to start working along with the videos as well as check your progress. We advise you to follow the tutorials and try not to use the final scenes to get the most out of the training.

A refund will not be possible, in accordance with Consumer Rights (art. 38, point 13).
We did all the heavy lifting for you
Just watch the tutorials & practice
Don't worry about anything else, the results will come naturally.
Buy Now