3ds Max Exterior & Interior Animations
Online video course for learning animations from basics to advanced level in 3ds Max, Corona & V-Ray.
Do you feel the same?
A desire for tremendous progress
Do you have an undying passion to be the best version of yourself? To push your limits and create works that draw admiration from your peers? Do you want to constantly expand your offer to provide better service to your clients and earn more? Of course, you do! Let your ambition soar and create stunning, hyper-realistic videos that will be admired! With the right motivation, anything is possible!
Expand your offer

Become an expert in animation production and offer comprehensive animation services!

Get recognition

Do you want to be recognized for your expertise and build a strong reputation with your clients?

Spread your wings

Are you willing to spread your wings and continue to develop your progress?

Create artwork

Do you want to make your 3D animations something more than just videos?

Aim to be the best

Do you want to beat your competition and be in a group of the top artists in the world?

Select your clients

Do you want to reach the point when you choose your clients, not vice versa?
Take a big leap
Join our training
60 Video Lessons that will teach you all about animations.

25 Shots explained from start to finish.

2 Render Engines Corona & V-Ray.

All the base 3ds max files. *Textures & commercial assets not included.

Animated models like trees & curtains from our animation.

40 RenderPoints from RebusFarm. Value 40.00€.
After the purchase is made, you will instantly get access to the full training.
Login details will be sent to your email.

Want to purchase more than 1 license for your team?
Contact us at contact@archvizartist.com for business inquiries.
Learn to create stunning 3D animations with Corona Renderer and VRay in this comprehensive training that teaches basics as well as advanced techniques.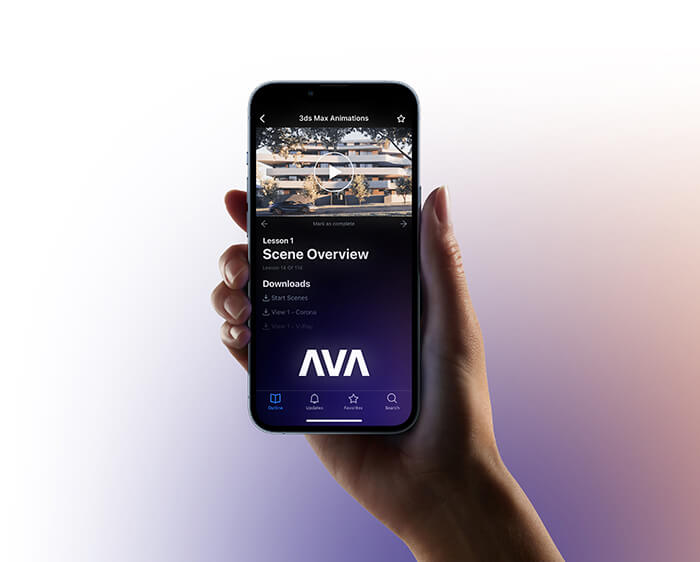 Meet the presenter
Agnieszka
The team of highly skilled 3D artists behind the courses has dedicated years to perfecting the art of creating animations in 3D software. These results are presented by Agnieszka Klich – co-founder of Arch Viz Artist and YouTuber. With years of experience and the Arch Viz Artist YouTube channel, she presents this comprehensive know-how training on the AVA workflow, tricks, and tips to create stunning and engaging 3D animations.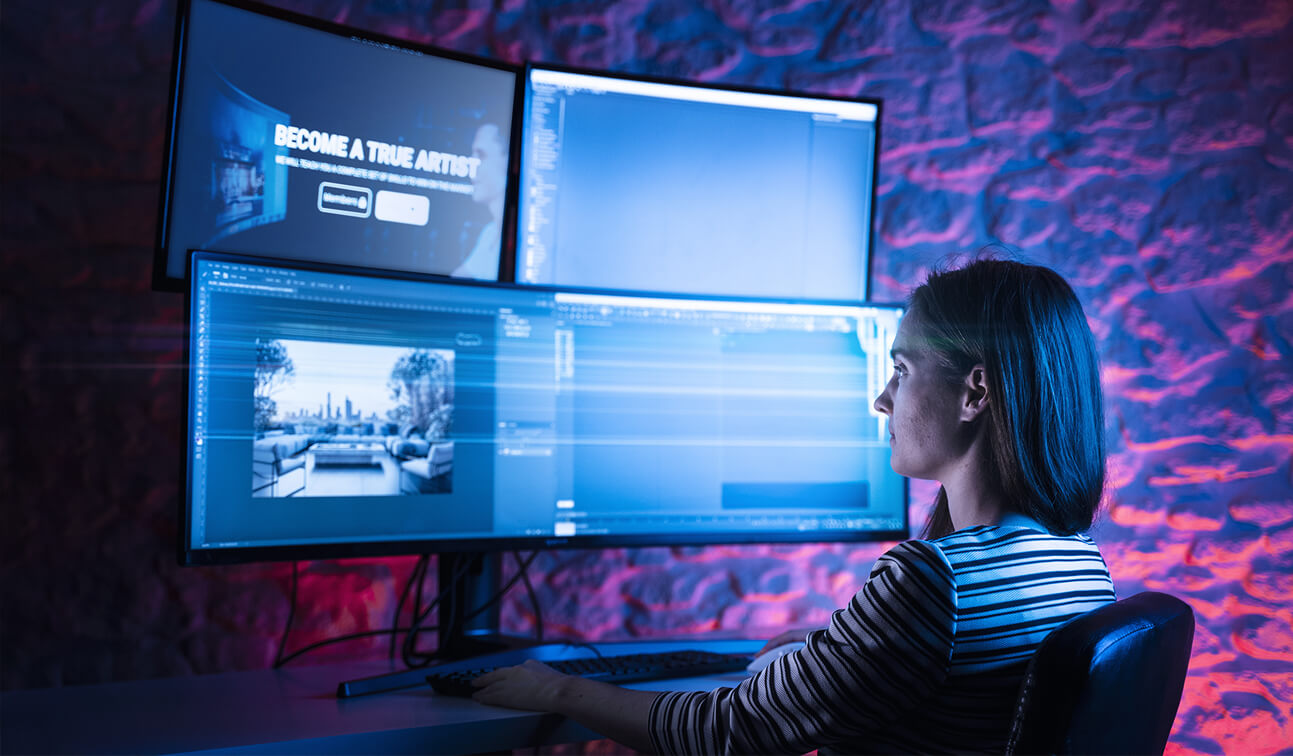 Practice does not make perfect
Only perfect practice makes perfect
Being a 3D artist gives you the chance to create a lifestyle as you wish. Whether you want a full-time job at a studio, become a freelancer, or launch your own business, the possibilities are endless. We'll teach you the best practices to make sure you don't waste time learning the wrong techniques. Explore the opportunity to create the lifestyle of your dreams. Let's take the first step and make your dreams a reality!
8-steps system
Composition

The balance between essentials and minutiae in the video.

Camera setup

Setting up the camera angle that influences the viewer.

Lighting

Affecting emotions through the different lighting scenarios.

Color palette

Using the power of the colors in order to convey the message.

Materials

Creating high-quality and photo-realistic materials.

Assets Placement

Arranging assets to show the character of the place.

Storytelling

Creating additional value through the story.

Post-Production

Enhancing the video as a professional cinematographer.
We will present this animation
From start to finish
Create eye-catching animations with our guidance! Learn the theory and practical skills required to craft amazing videos that capture the viewer's attention.
Why animations?
A powerful tool to explain the idea
Increased Demand

With the rise of social media, online advertising, and e-commerce, the demand for high-quality animated marketing content has increased significantly With the necessary skill set and proper knowledge, you can tap into this growing industry and attract more potential clients with compelling, high-quality animations.

Creative Challenge

Creating animations for marketing purposes requires a unique set of skills that go beyond traditional animation. You must use various techniques to create visuals that engage viewers and help you achieve your client's marketing objectives. This presents a creative challenge that can help you grow as an artist and expand your capabilities.

Diversify Your Portfolio

By adding marketing animations to your portfolio, you can demonstrate your versatility as a 3D artist and showcase your ability to create content for a variety of industries and purposes. Showcase your creativity and diverse skills to stand out from other artists and show potential clients or employers the power of your work.
This system will work for you
every time!
For who
Who should attend?
Beginner in animations

If you're just starting out in animation, our comprehensive training will help you understand the fundamentals and guide you through the entire production process step-by-step so you can quickly start to produce your own work.

Architect / Interior designer

Let us help you uncover the power of animations to fully illustrate your ideas and create the perfect atmosphere for your project. You will be able to captivate your audience using videos to effectively communicate your message.

In the arch-viz for a while

With our training, you will learn how to master the art of creating animations. You will gain the skills to craft stunning, professional 3D animations with the use of cinematographic techniques so you can create captivating videos.
Features
What will you learn?
Theory & Principles

Our course covers everything from the basics of animation to advanced rendering techniques! You will learn the complete animation process from start to finish. We cover all the theory, principles, and techniques – and provide 25 start scene files for you so you can recreate our animation step-by-step. You'll get to learn the setup and setting for both V-Ray and Corona renderers, no secrets kept!

Camera Setup & Movement

We believe camera movement (along with the lighting) is the key to creating great 3D animations. From understanding the principles of camera settings and movements to putting them into practice, we'll help you master the art of 3D animation. Learn the best camera movements and tricks used in videography and movies without the long and boring walkthrough animations! We will guide you through the process, and you'll be creating stunning animations with ease!

Light Animation

Bring your animations to life with animated lighting! We'll show you how to create the perfect lighting animation, from sun and HDRI animations to time-lapse sequences. We'll also discuss how to create stunning animation with just a JPG flat sequence (like in the last balcony shot from the course animation).

Editing, Postprodutcion & SFX

Creating an animation is more than just 3D production and rendering. It is similar to making a movie from your holiday footage. It's like turning holiday clips into something special. In this course, we will guide you through the entire process of video editing, from animation setup to music match, post-production, color correction, sound effects, and exporting the final animation. Learn how to use Adobe Premiere Pro and Adobe After Effects to create amazing animations.

Business Skills

In the course, we will help you understand the business side of animations. You'll have the opportunity to learn how to accurately quote an animation project, as well as how to effectively manage your client throughout the entire process, ensuring that everything runs smoothly and according to a timeline.

Aerial Animations

At our training, you'll gain the skills to create stunning aerial animations. We'll take our knowledge of real-life drone flying and show you the best techniques to translate it into the 3D world. There's no better way to master this type of animation and produce incredible results!

Object Animations

Animated objects will add life to your animations. Good use of animated objects will take your animation to the next level. Using this knowledge you'll be able to animate any object in the future. We will teach you additional scripts and plugins as well.

Tree & Plant Animations

You can add realism and life to your exterior animations with wind-driven movement! This will give your scenes a more natural look, as in real life, vegetation is always in motion due to the wind. With the use of the GrowFX plugin, we'll teach you how to add animations to any plant or tree.

Cloth Animations

Add life, movement, and interest to your interior animations with the perfect touch of blowing curtains. Learn how to create realistic motion and texture for your animations to get more realism to your videos. During the course, we'll teach you how to achieve this using Marvelous Designer Software.

Water Animation

Learn water simulation basics using Phoenix FD by Chaos Group. Perfect for bathrooms, but applicable for a variety of scenes. We'll also teach you how to add fog effects in post-production for a truly captivating result. Explore this workflow with us.
Learn this
in just

few weeks
or spend years trying to learn it by yourself
CURRICULUM
The training program
Theory & Scene Creation
Introduction & Animation Basics

Lesson 1

– Introduction to the training

Lesson 2

– Time Configuration

Lesson 3

– Animation Basics

Lesson 4

– Path Constraint

Lesson 5

– Motion Blur – Shutter Speed
Rendering animation

Lesson 6

– Corona Renderer Settings

Lesson 7

– V-Ray Renderer Settings

Lesson 8

– Rebus Render Farm

Lesson 9

– Animation Preview

Lesson 10

– Walkthrough animation
Scenes Setup & Camera Movements

Lesson 11

– Camera movements explained

Lesson 12

– Exterior shots overview

Lesson 13

– Exterior camera #1 setup

Lesson 14

– Exterior camera #2 setup

Lesson 15

– Exterior camera #3 setup

Lesson 16

– Balcony shot setup

Lesson 17

– Speed ramping explained

Lesson 18

– Speedramp shot #1 setup

Lesson 19

– Speedramp shot #2 setup
Animating Objects & Materials
Animated Models

Lesson 1

– Car animation (Basic Method)

Lesson 2

– Car animation (Advanced Method)

Lesson 3

– Car animation (Drive Master Script)

Lesson 4

– Animated People

Lesson 5

– Animated Tree (Grow FX)

Lesson 6

– Export animated tree

Lesson 7

– Animated Curtain (Marvelous Designer)

Lesson 8

– Animated water (Phoenix FD)

Lesson 9

– Animated water (Texture)
Animated Lights

Lesson 10

– Animated lights

Lesson 11

– Timelapse sun

Lesson 12

– Lighting setup timelapse

Lesson 13

– Timelapse animated sky (HDRI)

Lesson 14

– Animated fire
Finalizing animation
Editing & Postproduction

Lesson 1

– Premiere Pro basics

Lesson 2

– Premiere Pro edit

Lesson 3

– SFX (Sound Effects)

Lesson 4

– Color Correction in Premiere Pro

Lesson 5

– Color Correction in After Effects

Lesson 6

– Masking effect

Lesson 7

– Animated overlays

Lesson 8

– Zoom Effects

Lesson 9

– How to export animation
Extra Tips
Aerial Animations

Lesson 1

– Aerial camera movements

Lesson 2

– Aerial animation
Business & Project Management

Lesson 3

– How to quote animations

Lesson 4

– How to manage a client

Lesson 5

– Project timeline for animations
Summary & Certification

Lesson 6

– Certification rules

Lesson 7

– Summary and final advice
What do our students say?
Trusted by 2,000+ artists
from all over the world
Aliaksei Silenka

Belarus
I'm confident in recommending the AVA courses with a clean conscious! I actually tried the other paid course earlier and it was too hard to follow due to its bad structure. The order was kind of uncertain, and it was more like a bunch of technical lessons unrelated to any final purpose. Here everything is really well structured, I can easily track any previous lesson. And along the learning way, I feel at what part of the track I am, and what each lesson was for. And the general concept of not giving anything for the lesson except for walls and basic architectural items. No lights or assets. That's great! Before joining the course my main struggle was spending too much time on my projects. I was too focused on technical details and considered them to be the hallmark of visualization as a craft. Thanks to the course it dawned on me that it's the general idea and the mood of the scene that matters, which doesn't require much time! And that the quicker you make the scene, the better it's actually going to be! Now, I'm able to work faster, and better. I enjoy the results, as well as the process. I earn more. I sleep more.
Shehryar Khan

Canada
I've joined three courses from Arch Viz Artist: Visualization Course, Animation Course, and Advanced Interior Course. Before joining the training I've had trouble mainly with the time spent and the quality of my work. I also completely did not know how to animate any scenes. I chose the course from Arch Viz Artist because of the simple and easy-to-understand explanations. The short YouTube tutorials helped me a lot, which made me quickly realize what else I could learn. The cost of the course was also very reasonable. The course form is really easy to follow. You can go back to the tutorial access at any time. The length of each video is also perfect. The lessons are designed to focus on high quality and efficiency. I thought I learned it all, but there is so much more! Now, I am able to complete my renders faster. It has improved my image quality and has helped me become more confident and consistent with my work. After that, I was confident enough to start offering rendering and animation services in my company. I offer consulting and design services and have now received paid work from 2 of my existing clients for renderings as well! I would highly recommend these courses to fellow artists. If you want to learn from scratch or if you want to improve your existing work.
Hlyan Htet

Myanmar (Burma)
For a long time, I've been using Lumion for animation but I am not quite satisfied with that. I wanted to know more about animation to enhance my creativity for my upcoming projects. I highly recommend this course to anyone for if you want to be a professional in this field or if you want to learn how the professionals work, the Arch Viz Artist will surely show you how a professional works.
Alexander Gomes

United States of America
I've been doing architectural visualizations and animation for years, but when I found out about this online course, I instantly bought it. The information in this course on how to produce animation is of the best quality! It gave me a wealth of knowledge that I didn't have before. I can say that this course has made me a better animator and it was well worth the investment!
Numbers
There's a lot of it
…more than you think.
60

Lessons that will teach you everything you need to know about creating animations.

25

Shots that make up the entire animation are explained step-by-step in the training.

2

Render engines. During the course, we will explain 2 render engines: Corona & V-ray.

100

+

Lifetime access! Your access will never expire because you might forget something along the way.
English is not your first language? Not a problem!
We have subtitles in selected languages:
English

(Audio + Subtitles)

Spanish

(Subtitles)

Arabic

(Subtitles)

Bengali

(Subtitles)

Chinese

(Subtitles)

French

(Subtitles)

German

(Subtitles)

Hindi

(Subtitles)

Hungarian

(Subtitles)

Indonesian

(Subtitles)

Italian

(Subtitles)

Japanese

(Subtitles)

Korean

(Subtitles)

Polish

(Subtitles)

Portuguese

(Subtitles)

Russian

(Subtitles)

Turkish

(Subtitles)
Want to learn even more?
Check out our

bestseller bundles!
FAQ
See if you can discover the answer here to your question!
This course is for anyone who wants to learn animations. Basic 3ds max knowledge is required as we don't teach you the basics of the software. Animation knowledge is not required as we cover everything from beginner to advanced level.

The software we use during the course:
3ds max version 2019
Corona Renderer version 4
V-Ray Renderer version Next
Adobe Premiere Pro CC
Adobe After Effects CC

This is a principle-based course, versions of the software don't matter at all. You will be able to follow the training using any version of the above software.

Files are saved down to the 3ds max 2019 version. If you have an older 3ds max, you can download a trial and save it down on your own.

You will get lifetime access so you can learn at your own pace without any worries.

Unfortunately, you won't be able to download the files. However, you will be able to watch the tutorials on our website.

Yes! All the scene files will be available to download. They will include animated cameras, lighting, and basic models as well as animated models created by us.

Please note that commercial models and textures are NOT included due to licensing.

You'll get everything you need to learn from this course.

A refund will not be possible, in accordance with Consumer Rights (art. 38, point 13).
We did all the heavy lifting for you
Just watch the tutorials & practice
Don't worry about anything else, the results will come naturally.
Buy Now