3ds Max Workflow Optimization 2.0
Online video course for speeding up the production process workflow in 3ds Max.
Every click matters…
WASTED time is accumulating…
Have you ever spent countless hours stuck on a task, only to find yourself days or even weeks behind, with no end in sight? We've heard your frustrations and created this course to help you speed up the process and get back on track. Save yourself time and energy, and let us help you become an efficiency master!
Wasting Time

"Creating visualizations takes me too much time."

Competition

"Others can do much better images than me at the same time."

Lower Earnings

"I don't earn enough money for the time I put into my work."

Too Much Pressure

"My workplace can be overwhelming due to the high demands."

I'm Slow

"My team thinks that I am not efficient and I work too slowly"

Can't Meet Deadlines

"I can't manage to finish the project on time."
Take a big leap
Join our training
30 Video Lessons that will teach you how to work faster.

Our Toolbars that speed up your workflow.

Quad Menus we've developed over the years.

Hotkeys that are essential during the production process.

Our Templates for the new scenes.

Groups of Materials where we included our favorite sets.

Library Structure which we found the best for us.

ENU Folder, you can install everything in 10 seconds.

Lifetime Access. You can endlessly re-watch the course.
After the purchase is made, you will instantly get access to the full training.
Login details will be sent to your email.

Want to purchase more than 1 license for your team?
Contact us at contact@archvizartist.com for business inquiries.
Maximize your 3ds Max workflow to save time and focus on the creative side of your projects. Use the saved time to unleash your creativity and make stunning visuals faster!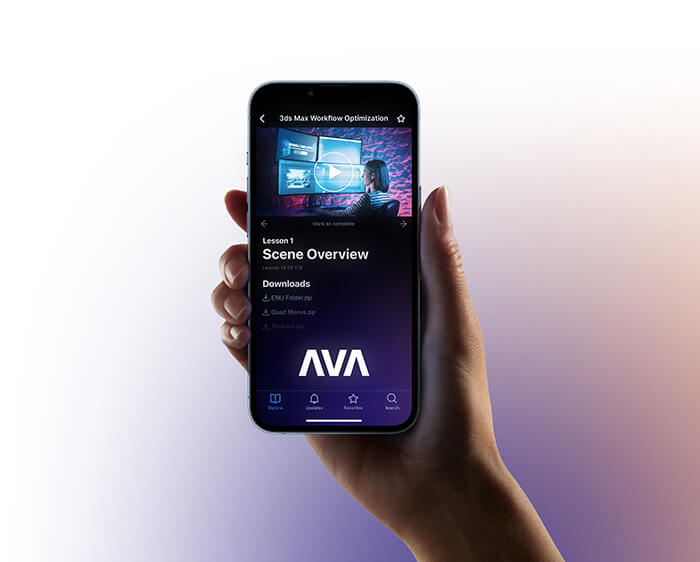 Meet the presenter
Agnieszka
The team of highly skilled 3D artists behind the courses has dedicated years to perfecting the art of creating animations in 3D software. These results are presented by Agnieszka Klich – co-founder of Arch Viz Artist and YouTuber. With years of experience and the Arch Viz Artist YouTube channel, she presents this comprehensive know-how training on the AVA workflow, tricks, and tips to make the production process in 3ds Max more efficient.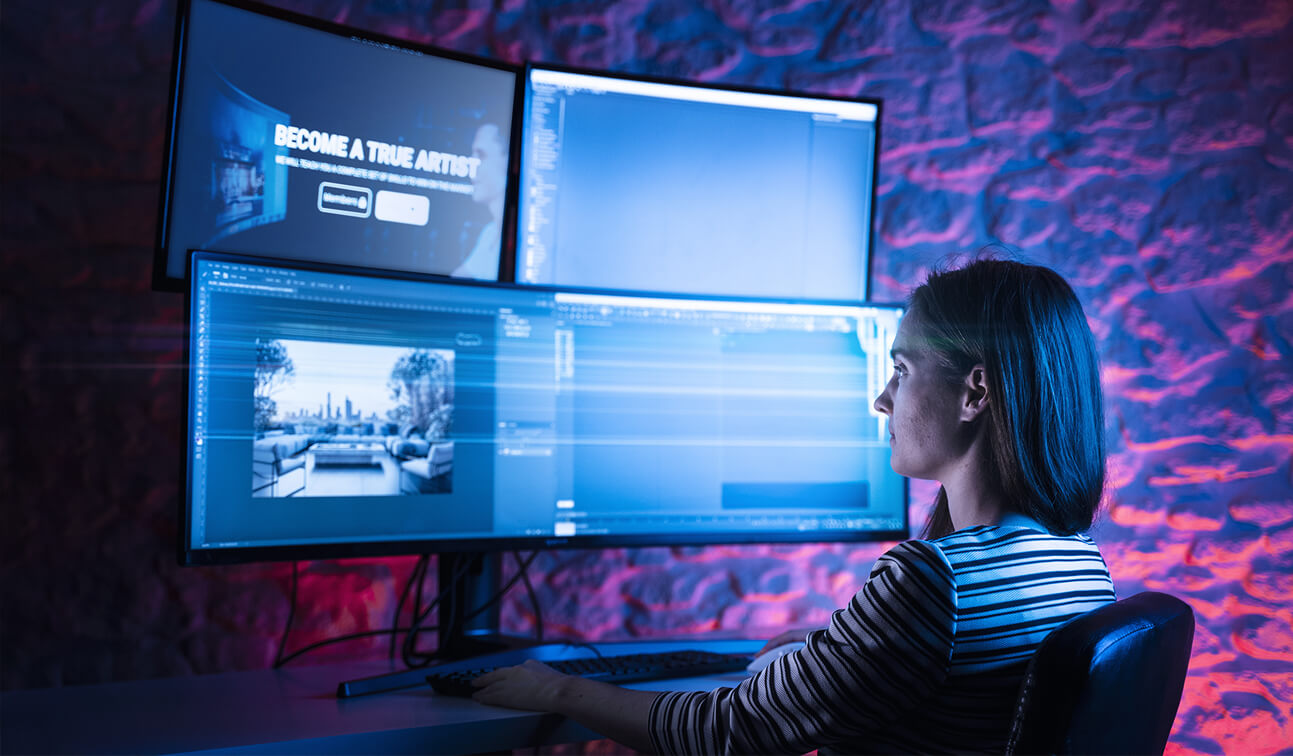 What will you gain?
The simple reasons why
you should join
Optimize your workflow!
Time

Using this method, you can drastically speed up the process of creating visuals! Save yourself time and effort by working up to 3 times faster than before. Make tedious repetitive tasks a thing of the past, and enjoy effortless image creation.

Balance

Gone are the days of worrying about looming deadlines and running out of time. With our training, you get extra hours in your day that you can use however you want. You can focus on what's important to you and make the most of every day.

Confidence

By learning how to effectively manage your workflow, you can maximize your productivity and be seen as a fast and reliable professional. Take the time to invest in yourself and learn the best strategies to accelerate your workflow and improve your results. With the right tools and techniques, you can achieve your goals faster and make a lasting impact.

Respect

By investing in your visual design skills, you can create more spectacular images faster and with better quality. This means more time to focus on creativity and the opportunity to wow your audience with stunning visuals. So let's make the most of it and sharpen your design skills to create images that stand out from the competition!
Automate
as many things

as you can!
For who
Who should attend?
Beginner 3D artist

If you're just starting out in arch-viz, our training will help you learn the efficient methods of speeding up the workflow in 3ds Max from the beginning. However, you need to have some background in the software so it the best if you combine this course with the 3ds Max Interior & Exterior Visualizations.

Intermediate 3D artist

With our training, you will learn how to maximize your 3ds Max skill. You will gain knowledge on how to set up your workspace to get the most out of your experience and work more efficiently. Thanks to these techniques you will save more time for crafting your visualizations or animations.

Experienced 3D artist

This course is perfect for artists of all levels! If you are an advanced user and you don't automate your workflow already, then you will benefit from learning how to do it by using scripts, customized toolbars, templates, and more – all of which will save time and energy, allowing for more creative time.
Ultimate truth
Maximize efficiency by

automating processes!
Do you feel like you're stuck in a never-ending loop of manual tasks, restlessly searching for a way to improve your workflow? Well, here's some good news: there's a solution! By leveraging the potential of the software, you can automate tedious tasks, optimize workflow and unlock incredible new possibilities. Let us show you the MAGIC of automation!
Time
It is the most valuable asset
Do you ever feel like you don't have enough hours in the day? You're not alone! We've got you covered with 5 easy tips to streamline your workflow and make the most of your time. Watch our new YouTube video and discover how to get the most out of every day!
Learn this
in just

few hours
or spend years trying to learn it by yourself
Curriculum
The training program
Optimize your workflow!
Basic Adjustments

Lesson 1

– Introduction + files to download

Lesson 2

– Quickly load our whole setup

Lesson 3

– Load individual tools

Lesson 4

– 3ds Max setup

Lesson 5

– Preferences

Lesson 6

– Layers

Lesson 7

– Render Settings

Lesson 8

– Template
Adjusting Toolbars

Lesson 9

– Toolbars

Lesson 10

– Toolbar scripts

Lesson 11

– Adding toolbar icon

Lesson 12

– Adding all the scripts to toolbars

Lesson 13

– Installing our toolbars

Lesson 14

– Our toolbars explained
Adjusting Quads

Lesson 15

– Quads

Lesson 16

– Scripts quads

Lesson 17

– Installing our quads

Lesson 18

– Our quads explained
Adjusting Hotkeys

Lesson 19

– Hotkeys

Lesson 20

– Our hotkeys & mouse

Lesson 21

– Installing our hotkeys
Additional Adjustments & Tools

Lesson 22

– Menus

Lesson 23

– Project Manager

Lesson 24

– Batch & Relink

Lesson 25

– Save workspace

Lesson 26

– Materials shortcuts

Lesson 27

– Project folder

Lesson 28

– Specific template

Lesson 29

– Create your own scripts

Lesson 30

– Final Thoughts
Testimonials
Trusted by 2,000+ artists
from all over the world
Ian Hakes

United States of America
This has been a wonderful resource to bring our new members up to a unified workflow. The resources for optimizing the layout, startup, quads and so many scripts have sped up our general workflow more than is easy to say. This has also allowed our newest artists to start off strong, with a solid footing and shaved off weeks of training. Having the entire team unified with our 3ds max setups has also allowed for less corruption error that might happen from missing or incompatible 3ds Max configurations. Well worth the investment to bring seasoned pros and new artists to equal footing.
Pavlína Mojská

Slovakia
I would recommend courses from Arch Viz Artist to every new or experienced artist who wants to learn how to make realistic and professional renders. The courses are really affordable in relation to how much they offer, they are easy to follow and will surely make you a much better CGI artist.
Adam Ambrus

Hungary
I recommend Arch Viz Artist courses because all of them contain relevant and up-to-date tips and tricks, provided by well-prepared presenters. The knowledge that you can gain during the courses will save you a lot of time. What I loved the most is the well-composed, high-quality assets, materials, and contemporary design. As per my expectation, my 3D modeling, composition, lighting, and texturing skills are improved a lot.
Numbers
There's a lot of it
…more than you think.
30

Lessons that will teach you how to work more efficiently so you gain more time for the creative process.

7

Bonuses that will allow you to use our customized hotkeys, quads, structures, toolbars, and more.

2.5

Hours. After that time, you will gain knowledge on how to be more efficient during your production process.

100

+

Lifetime access! Your access will never expire because you might forget something along the way.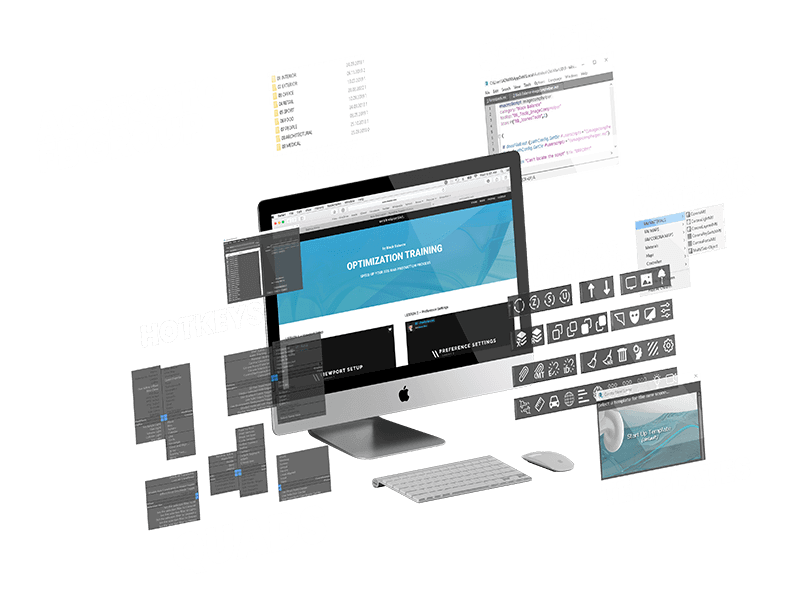 Bonuses
It's NOT everything!
By signing up for the Arch Viz Artist Optimization Training, you'll gain access to exclusive bonuses designed to boost your progress. Get ready to experience the most effective and efficient optimization course you've ever known. Make the most of the training and experience the amazing results that come with it.
Get our ENU folder,
and install everything
in 10 seconds!!!
English is not your first language? Not a problem!
We have subtitles in selected languages:
English

(Audio + Subtitles)

Spanish

(Subtitles)

Arabic

(Subtitles)

Bengali

(Subtitles)

Chinese

(Subtitles)

French

(Subtitles)

German

(Subtitles)

Hindi

(Subtitles)

Hungarian

(Subtitles)

Indonesian

(Subtitles)

Italian

(Subtitles)

Japanese

(Subtitles)

Korean

(Subtitles)

Polish

(Subtitles)

Portuguese

(Subtitles)

Russian

(Subtitles)

Turkish

(Subtitles)
Want to learn even more?
Check out our

bestseller bundles!
With Advanced Exteriors Training

2-pack bundle

998.00€ 848.00€ Save 150€

Buy this bundle

With Basic Visualizations Training

2-pack bundle

798.00€ 648.00€ Save 150€

Buy this bundle

With Animation Training

2-pack bundle

798.00€ 648.00€ Save 150€

Buy this bundle
FAQ
See if you can discover the answer here to your question!
If creating visualization is your job, this course is for you.
If you are the owner of the visualization studio, this course is for you.
If you want to speed up the production process for any reason, this course is for you.

After watching all 30 lessons, you will get the software setup for a lifetime. It will speed up your work drastically!

We use 3ds max version 2023 during the course.

This is a principle-based course, versions of the software don't matter at all. You will be able to follow the training using any version of the above software.

You'll be also able to adjust all the toolbars, quads, and other things to the version you are using with the knowledge gained during the course.

You will get lifetime access so you can learn at your own pace without any worries.

Unfortunately, you won't be able to download the files. However, you will be able to watch the tutorials on our website.

A refund will not be possible, in accordance with Consumer Rights (art. 38, point 13).
We did all the heavy lifting for you
Just watch the tutorials & practice
Don't worry about anything else, the results will come naturally.
Buy Now