3ds Max Advanced Interior Visualizations
Advanced online video course for mastering interior visualizations in 3ds Max & Corona (+ bonus V-Ray lessons).
Do you feel the same?
A willingness for bigger and more ambitious projects…
It's a common experience for many artists to reach a point in their careers where they want to challenge themselves, take on more complex projects, and grow their skills. If you're feeling this way, it's understandable and you can take action to achieve your goals. With the right mindset, dedication, and determination, you can reach your goals. There's no need to fear the unknown – if you're willing to put in the work and learn as you go, you'll be able to achieve the desired results!
Get recognition

Do you want to be recognized for your expertise and build a strong reputation with your clients?

Get bigger clients

Do you want to reach out to bigger clients that may have more complex projects for you?

Earn more per project

Would you like to earn more thanks to the complexity and scale of the projects?

Aim to be the best

Do you want to beat your competition and be in a group of the top artists in the world?

Create artwork

Do you want to make your interior visualizations stand out among other images?

Spread your wings

Are you willing to spread your wings and continue to develop your progress?
Take a big leap
Join our training
63 Video Lessons covering advanced visualization workflows.

19 Introduction Lessons which will teach you Corona & V-Ray.

Free Bonus E-bookwhich will teach you about art rules.

Final Exam after which you'll get a certificate.

Lifetime Access. You can endlessly re-watch the course.

Exclusive discounts for different sorts of 3D models in different online shops.
599.00€
Buy Now
After the purchase is made, you will instantly get access to the full training.
Login details will be sent to your email.

Want to purchase more than 1 license for your team?
Contact us at contact@archvizartist.com for business inquiries.
Gain the skills to create visually captivating and advanced 3D visualizations of interiors, showcasing various scenarios with artistic flair, as part of your professional development.
Meet the presenter
Agnieszka
The team of highly skilled 3D artists behind the courses has dedicated years to perfecting the art of creating animations in 3D software. These results are presented by Agnieszka Klich – co-founder of Arch Viz Artist and YouTuber. With years of experience and the Arch Viz Artist YouTube channel, she presents this comprehensive know-how training on the AVA workflow, tricks, and tips to create stunning and engaging 3D visualizations.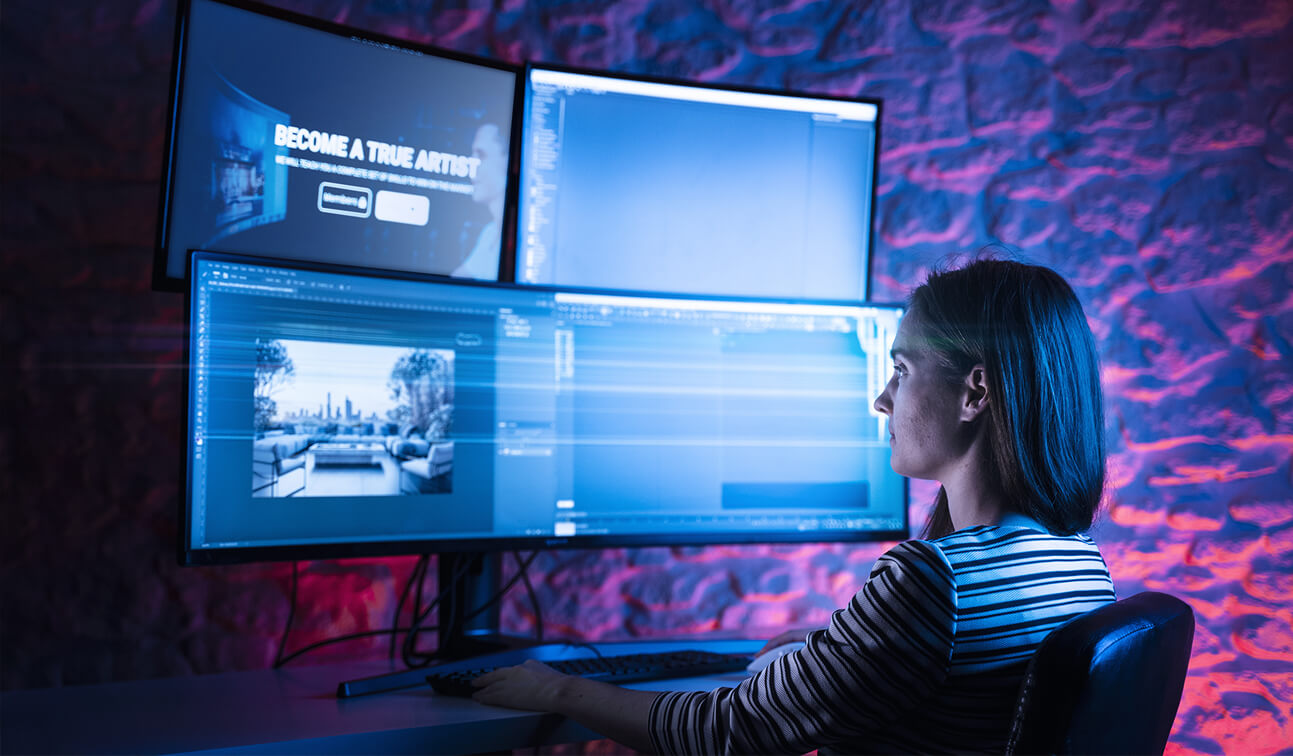 Practice does not make perfect
Only perfect practice makes perfect
Being a 3D artist gives you the chance to create a lifestyle as you wish. Whether you want a full-time job at a studio, become a freelancer, or launch your own business, the possibilities are endless. We'll teach you the best practices to make sure you don't waste time learning the wrong techniques. Explore the opportunity to create the lifestyle of your dreams. Let's take the first step and make your dreams a reality!
8-steps system
Composition

The balance between essentials and minutiae in the image.

Camera setup

Setting up the camera angle that influences the viewer.

Lighting

Affecting emotions through the different lighting scenarios.

Color palette

Using the power of the colors in order to convey the message.

Materials

Creating high-quality and photo-realistic materials.

Assets Placement

Arranging assets to show the character of the place.

Storytelling

Creating additional value through the story.

Post-Production

Enhancing the image as a professional photographer.
We will present these visualizations
From start to finish
This system will work for you
every time!
For who
Who should attend?
Experienced 3D artist

If you're an experienced arch-viz artist but you feel like your interior images could use a spark, then this course is for you! Learn how to take your visuals to the next level and create stunning images.

Intermediate 3D artist

This course is perfect for intermediate artists looking to refine their skills and take their interior visualizations to the next level. Learn to create captivating visuals and add the final touches to your work.

Interior Designer

Are you a skilled designer who has difficulty convincing others of your project ideas? This training can help you effectively communicate your concept through visualizations and get your point across.
Features
What will you learn?
Modeling Techniques

In this course, you'll learn how to model the base of a bar scene. As a 3D artist, you'll learn how to adjust models quickly and effectively – a valuable skill to have. This valuable skill will be an asset to you, as you practice and learn throughout the training. We'll practice together to ensure you have the skills and confidence to succeed.

Camera Setup & Composition

Selecting the right camera angle for your interior projects is a key factor in creating an effective and powerful visualization. Whether you're looking for an unexpected view, or striving for simplicity, picking the right angle can help you create a compelling story. As with the bar space example, it took some time to explore the different angles and find the one that best suited the desired effect. That's the foundation for every successful image.

Lighting as a Tool to Add Mood

Lighting is essential in crafting the right atmosphere and mood. It can powerfully evoke emotions and present your space in a unique way. When executed correctly, lighting can make all the difference in creating captivating visualizations that stand out and capture the attention of viewers. With thoughtful and strategic lighting, your visuals can be transformed into something truly remarkable.

Advanced Materials

There is a huge gap between basic materials and advanced ones, and it mainly refers to the level of detail. During this course, you'll learn how to create advanced, high-quality materials that will help you achieve photorealism in your work. With a thorough understanding of materials in real life, you'll be able to recreate them accurately, resulting in stunning visualizations.

Detail Shots

Vignettes are an excellent way to showcase your project in a more intimate, in-depth manner. By focusing on the details, your viewer can better understand the design, create a more inviting atmosphere, and truly bring the space to life. Capture the essence of your project by taking close-up shots of all its intricate details.

Post-production

Post-production is a powerful tool to enhance your images. Our approach focuses on adding atmosphere, highlighting the key elements of the image, and maintaining balance and color consistency. We believe that post-production should be used to refine images, not to fix issues from 3D software. Our lessons will help you use post-production to improve, rather than break, your visuals.
Learn this
in just

few weeks
or spend years trying to learn it by yourself
What do our students say?
Trusted by 2,000+ artists
from all over the world
Shehryar Khan

Canada
I've joined three courses from Arch Viz Artist: Visualization Course, Animation Course, and Advanced Interior Course. Before joining the training I've had trouble mainly with the time spent and the quality of my work. I also completely did not know how to animate any scenes. I chose the course from Arch Viz Artist because of the simple and easy-to-understand explanations. The short YouTube tutorials helped me a lot, which made me quickly realize what else I could learn. The cost of the course was also very reasonable. The course form is really easy to follow. You can go back to the tutorial access at any time. The length of each video is also perfect. The lessons are designed to focus on high quality and efficiency. I thought I learned it all, but there is so much more! Now, I am able to complete my renders faster. It has improved my image quality and has helped me become more confident and consistent with my work. After that, I was confident enough to start offering rendering and animation services in my company. I offer consulting and design services and have now received paid work from 2 of my existing clients for renderings as well! I would highly recommend these courses to fellow artists. If you want to learn from scratch or if you want to improve your existing work.
Paul Cable

Great Britain
There are lots of online courses out there but the best way to decide which to take, at least for me is through recommendations and reviews. I had heard of the Arch Viz Artists courses from another render artist and so visited the website to see what all the buzz was about. I started to go through and look at what they had to offer and was immediately impressed; courses were affordable and student reviews had nothing but praise. After that, it was an easy decision. I love the form of the course because you are able to keep moving at your own speed and now with the mobile app I can keep on learning where ever I am. I like the way it delivers bite-sized information. This method has helped me to further my knowledge one step at a time and grow as an artist.
Pavlína Mojská

Slovakia
I would recommend courses from Arch Viz Artist to every new or experienced artist who wants to learn how to make realistic and professional renders. The courses are really affordable in relation to how much they offer, they are easy to follow and will surely make you a much better CGI artist.
Adam Ambrus

Hungary
I recommend Arch Viz Artist courses because all of them contain relevant and up-to-date tips and tricks, provided by well-prepared presenters. The knowledge that you can gain during the courses will save you a lot of time. What I loved the most is the well-composed, high-quality assets, materials, and contemporary design. As per my expectation, my 3D modeling, composition, lighting, and texturing skills are improved a lot.
Numbers
There's a lot of it
…more than you think.
10

Visualizations will be shown from start to finish during this training including main and detailed shots.

63

63 Video Lessons  that will teach you advanced visualization workflows used to create amazing interior visualizations.

19

19 Bonus Lessons that will explain the differences in the production process workflow using Corona & V-Ray.

100

+

Lifetime access! Your access will never expire because you might forget something along the way.
Be prepared for everything
Every detail is done in 3D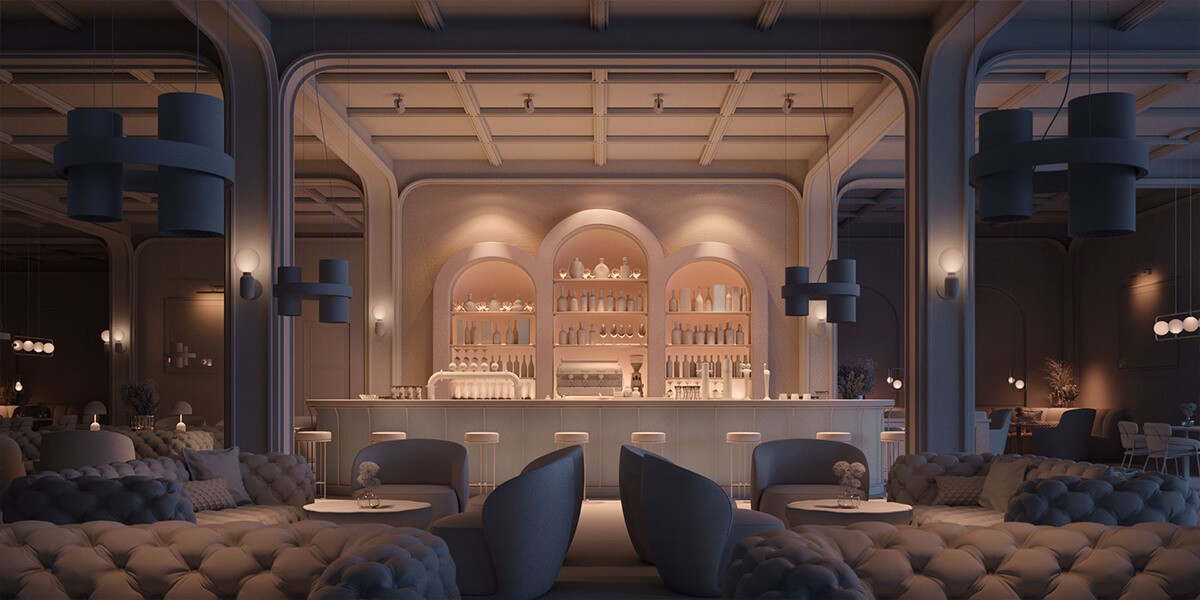 English is not your first language? Not a problem!
We have subtitles in selected languages:
English

(Audio + Subtitles)

Spanish

(Subtitles)

Arabic

(Subtitles)

Bengali

(Subtitles)

Chinese

(Subtitles)

French

(Subtitles)

German

(Subtitles)

Hindi

(Subtitles)

Hungarian

(Subtitles)

Indonesian

(Subtitles)

Italian

(Subtitles)

Japanese

(Subtitles)

Korean

(Subtitles)

Polish

(Subtitles)

Portuguese

(Subtitles)

Russian

(Subtitles)

Turkish

(Subtitles)
CURRICULUM
The training program
Main scene – Image Creation
Modeling

Lesson 1

– Modeling overview

Lesson 2

– Modeling columns

Lesson 3

– Modeling windows

Lesson 4

– Modeling ceiling

Lesson 5

– Modeling walls

Lesson 6

– Modeling doors

Lesson 7

– Modeling bar

Lesson 8

– Modeling bar counter

Lesson 9

– Remodeling bar sofa

Lesson 10

– Final adjustments to the base model
Cameras & Lighting

Lesson 11

– General idea of the bar space

Lesson 12

– Storytelling and color analysis

Lesson 13

– Main furniture setting

Lesson 14

– Main cameras setting

Lesson 15

– Overall lighting setup

Lesson 16

– Adding light features

Lesson 17

– Adding lights to light features
Materials

Lesson 18

– Creating wood material

Lesson 19

– Creating wall material

Lesson 20

– Creating floor material

Lesson 21

– Creating ceiling material

Lesson 22

– Creating marble material

Lesson 23

– Creating metal material

Lesson 24

– Creating bar fabric material

Lesson 25

– Creating the rest of the bar materials

Lesson 26

– Creating linen material

Lesson 27

– Creating velvet material

Lesson 28

– Editing furniture materials

Lesson 29

– Adjusting 2nd version of the velvet material
Finalizing & Postproduction

Lesson 30

– Adding bar accessories

Lesson 31

– Adjusting alcohol materials

Lesson 32

– Placing alcohol models

Lesson 33

– Lighting bar area

Lesson 34

– Adding extra lighting

Lesson 35

– Placing main accessories

Lesson 36

– Positioning decorations

Lesson 37

– Render Setting & Render Elements

Lesson 38

– Post-production
Detailed Images Creation
Vertical Bar Shot

Lesson 1

– Vertical bar image – Adjusting the lighting

Lesson 2

– Vertical bar image – Postproduction
Design Details Shots

Lesson 3

– Seating image – Setting up the lighting

Lesson 4

– Seating image – Postproduction

Lesson 5

– Sofa detail – Setting up the camera

Lesson 6

– Sofa detail – Setting up the lighting

Lesson 7

– Sofa detail – Postproduction

Lesson 8

– Canva detail – Setting up the camera

Lesson 9

– Canva detail – Setting up the lighting

Lesson 10

– Canva detail – Postproduction
Alcohol Details Shots

Lesson 11

– Alcohol Details View 1 – Setting up the camera

Lesson 12

– Alcohol Details View 1 – Setting up the lighting

Lesson 13

– Alcohol Details View 1 – Postproduction

Lesson 14

– Alcohol Details View 2 – Setting up the camera

Lesson 15

– Alcohol Details View 2 – Setting up the lighting

Lesson 16

– Alcohol Details View 2 – Postproduction
Bar Detail Shots

Lesson 17

– Bar Detail View 1 – Setting up the camera

Lesson 18

– Bar Detail View 1 – Setting up the lighting

Lesson 19

– Bar Detail View 2 – Setting up the camera

Lesson 20

– Bar Detail View 2 – Setting up the lighting

Lesson 21

– Bar Detail View 3 – Setting up the camera

Lesson 22

– Bar Detail View 3 – Setting up the lighting

Lesson 23

– Bar Details – Postproduction

Lesson 24

– Final thoughts, homework & certification rules
Bonus lessons
Render Engines

Lesson 1

– Introduction to the training

Lesson 2

– Corona Render Settings

Lesson 3

– V-Ray Render Settings

Lesson 4

– Corona VFB Window

Lesson 5

– V-Ray VFB Window

Lesson 6

– Corona Render Elements

Lesson 7

– V-Ray Render Elements

Lesson 8

– Corona Proxy

Lesson 9

– V-Ray Proxy

Lesson 10

– Corona Cameras

Lesson 11

– V-Ray Cameras

Lesson 12

– Corona Lighting

Lesson 13

– V-Ray Lighting

Lesson 14

– Corona Lightmix

Lesson 15

– V-Ray Lightmix

Lesson 16

– Corona Materials

Lesson 17

– V-Ray Materials

Lesson 18

– Corona Fog & Volumetrics

Lesson 19

– V-Ray Fog & Volumetrics
Want to learn even more?
Check out our

bestseller bundles!
FAQ
See if you can discover the answer here to your question!
The software we use during the course:
3ds max version 2022
Corona Renderer version 7 (the whole course is in Corona but we will include the bonus module where we will explain the main differences between the Corona Renderer version 7 and V-Ray Renderer 5).
Adobe Photoshop

This is a principle-based course, versions of the software don't matter at all. You will be able to follow the training using any version of the above software (the versions may have some differences).

Files are saved down to the 3ds max 2019 version. If you have an older 3ds max, you can download a trial and save it down on your own.

You will get lifetime access so you can learn at your own pace without any worries.

Unfortunately, you won't be able to download the files. However, you will be able to watch the tutorials on our website.

Yes! The initial and final scenes will be available to download including cameras, lighting, post-production in Corona renderer, and the base scene model created by us (see the modeling module).

Please note that commercial textures and assets are NOT included due to licensing. Materials will be included but the textures will be missing. Once you get the textures, you will have full materials. We will provide links to the textures and assets we have used during the course.

A refund will not be possible, in accordance with Consumer Rights (art. 38, point 13).
We did all the heavy lifting for you
Just watch the tutorials & practice
Don't worry about anything else, the results will come naturally.
Buy Now