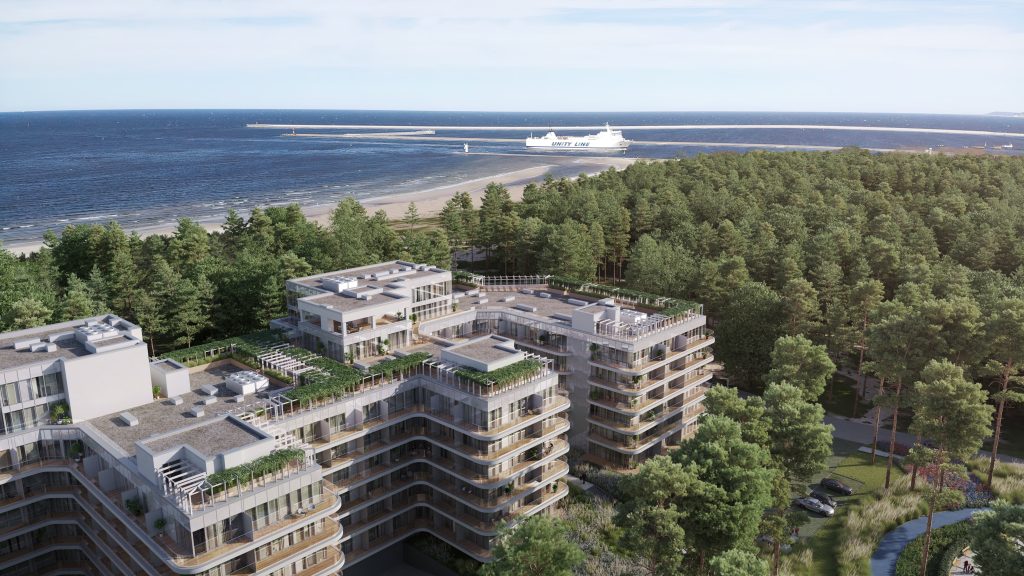 We are thrilled to share our experience working on the Apollo Resort Świnoujście project, an exceptional luxury resort nestled on the picturesque shores of the Baltic Sea. The resort boasts a prime location, offering breathtaking sea views and a unique coastal atmosphere that draws visitors and residents alike.
The modern architectural design of Apollo Resort features a harmonious blend of colors and materials that seamlessly integrate into the surrounding coastal landscape. White, gray, and light wood tones create a visually appealing facade, while the generous use of glass reflects the stunning shoreline, enhancing the building's connection to the Baltic Sea.
Our primary focus in this project was to create visualizations that not only captured the essence of the resort's unique location and design but also highlighted the luxurious lifestyle it offers. To achieve this, we crafted a series of high-quality images that showcased the resort's exceptional setting, stunning architecture, and overall atmosphere. Each image was meticulously designed to convey a sense of sophistication and elegance, emphasizing the resort's status as a prime investment opportunity and an idyllic destination for both relaxation and leisure.
Throughout the project, we collaborated closely with the resort's developers, ensuring that our visualizations accurately reflected their vision and adhered to the highest standards of quality. Communication played a crucial role in our success, as we were able to exchange ideas, provide feedback, and make adjustments to our work as needed. This collaborative approach enabled us to create visualizations that not only met but exceeded the client's expectations.
Our images played a significant role in the marketing campaign for Apollo Resort Świnoujście, attracting potential buyers and demonstrating the power of visual communication in the real estate industry. By skillfully utilizing both print and digital materials, we were able to reach a broad audience and generate interest in the resort. As a result, our visualizations contributed to the successful promotion of this luxurious coastal development.
Our work on the Apollo Resort Świnoujście project allowed us to showcase our expertise in creating compelling visualizations and bringing our client's vision to life. This project stands as a testament to our commitment to excellence in visual communication and our ability to deliver exceptional results that meet the unique needs of our clients. Through a combination of creativity, skill, and collaboration, we are proud to have contributed to the success of this remarkable coastal development and look forward to continuing to provide top-notch visual communication services to clients across various industries.