From Artistry to Business for Creatives
Online video course specially designed for arch-viz artists, architects, and all creatives to develop their business skills.
The struggles
Many artists have these problems…
Are you an artist who has been struggling with common problems in the arch-viz world? Do you feel like you're stuck and don't know what your next step should be? If so, you're not alone! Many 3D artists are facing the same issues, but there are ways to overcome them. Don't give up! Figure out what help you need, and start taking the right steps toward achieving your goals.
Not enough money

Are you looking for ways to enhance your life and feel more secure? Do you often find yourself struggling to make ends meet every month? Are you worrying about your financial future and that of your family?

Cheap clients

Are you a freelancer or business owner struggling to secure clients who recognize the value of your services? Do you feel you need to revise your pricing but are reluctant to do so for fear of losing your customers?

Business doesn't earn

Are you feeling overwhelmed by the responsibilities of owning your own business? Are you not seeing the returns you expected? Do you struggle with managing projects, setting rules, and getting customers?

Business owns you

As the face of your business, do you feel like it can't survive without you? Do you feel the pressure of making sure that things run smoothly while you are away? Do you have trouble leaving your team alone?

No business education

Are you dreaming about your own business but are worried about not having the necessary know-how to run a business? Do you feel is it a serious barrier to you and your professional success?

Dream about a business

Are you feeling stuck in a full-time job but dreaming of starting your own business? Is your fear keeping you from realizing your dreams? Are you apprehensive about the risk of losing stability and peace of mind?
Take a big leap
Join our training
108 Video Lessons packed into 12 modules.

Learning Platform with progress tracking.

Quizzes & Homework  after every module.

Final Exam after which you'll get a certificate.

Lifetime Access. You can endlessly re-watch the course.
After the purchase is made, you will instantly get access to the full training.
Login details will be sent to your email.

Want to purchase more than 1 license for your team?
Contact us at contact@archvizartist.com for business inquiries.
Transform your future as a 3D artist with our comprehensive Business Training! Equip yourself with the knowledge, skill, and experience to succeed in the industry. Enroll now and let your creativity thrive.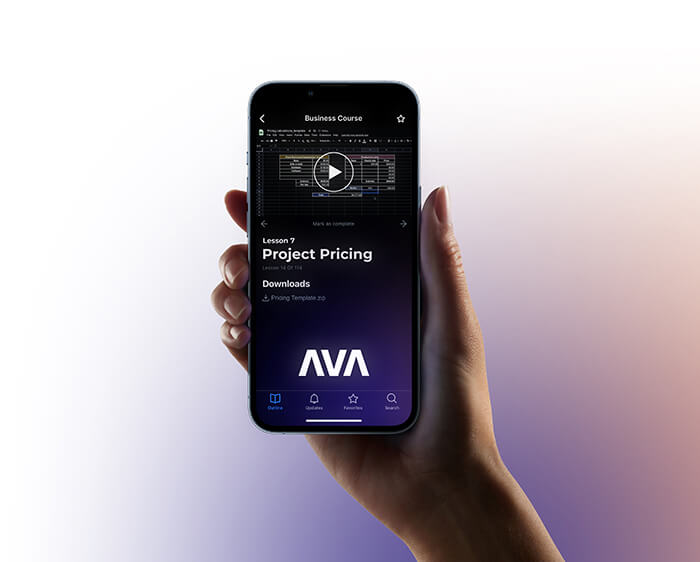 Meet the presenter
Agnieszka
As professionals, we have gained extensive experience through our diverse career paths. We have worked full-time, pursued freelance opportunities, and managed our own businesses, affording us the opportunity to understand the benefits and drawbacks associated with each. This knowledge is presented by Agnieszka Klich – co-founder of Arch Viz Artist and YouTuber. With years of experience and the Arch Viz Artist YouTube channel, she presents this comprehensive business training on the solutions to your potential struggles, tricks, and tips to effectively compete in the creative market.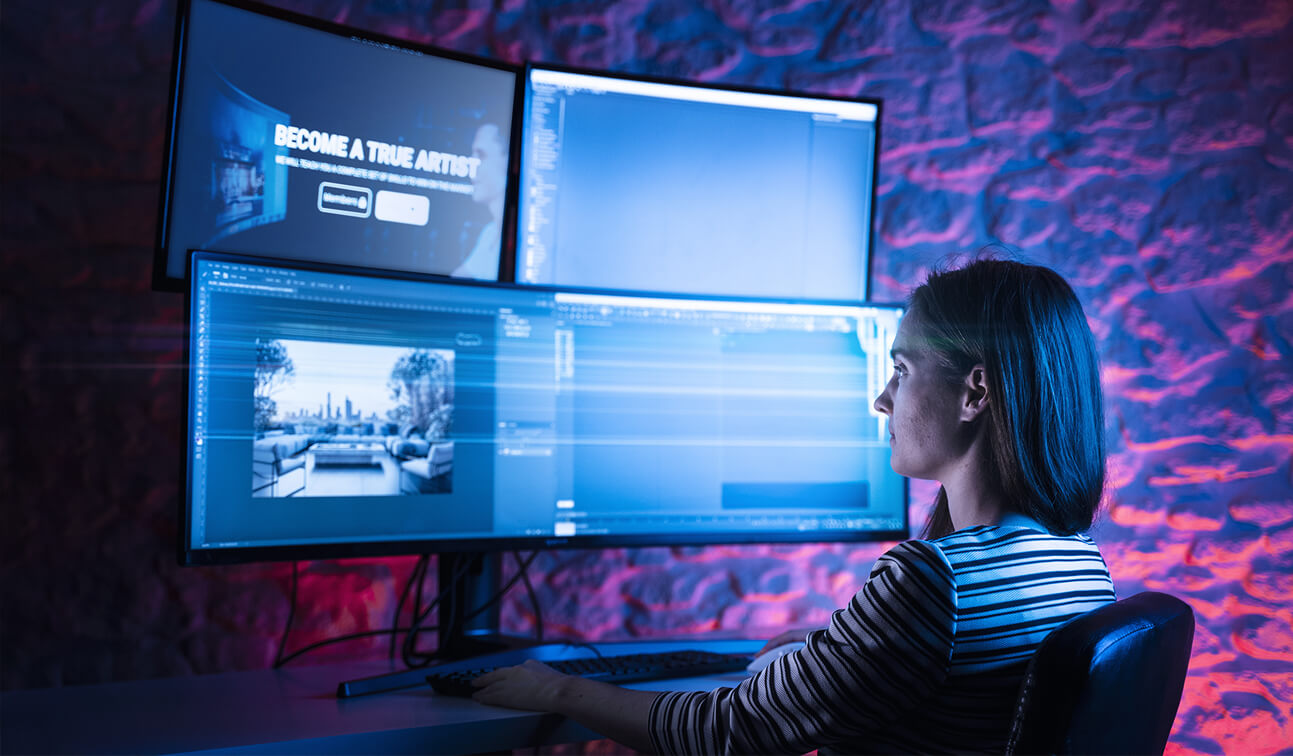 We spent 5 years and $25k in courses
You'll do it in less
than 1 year.
Attending seminars, courses, and conferences over the years has been a huge boon for our professional lives. After trial and error, we discovered the best ways to apply our knowledge to the arch-viz industry. We'd now like to share our insights through the Arch Viz Artist Business Training, enabling others to benefit from our experiences.
12-step program
Setting your mindset

This first module will be a challenge, but also the key to unlocking success. Set your mindset in the right direction and you'll be on your way to achieving the goals you want. Put in the effort and you'll reap the rewards. Make this module count and you'll be on the path to success.

Setting your goals

Do you want to reach your goals and make progress? Setting realistic objectives and having self-discipline are essential for success. With self-control and hard work, you can reach new heights and become the best version of yourself. Make sure to stay focused and stay committed to reaching your desired outcome.

Organizing your time

Are you an artist struggling to plan your day and manage your time? Learn how to organize your work to maximize productivity, reduce stress, and avoid time-wasting pitfalls. Develop your managing skills and become a more successful artist!

Building an offer

Crafting an offer is an intricate process that demands an in-depth analysis of your business. In this course, we'll discuss the necessary components to help you construct your own offer tailored to your clients' needs. Through this, you'll be better equipped to create a great offer.

Building a website

Learn how to craft a website that will engage visitors and have them contact you inquiring about your services. By creating a visually appealing and user-friendly website that provides clear and compelling information about your services, you can establish trust with potential clients and encourage them to take the next step in the sales process.

Growing social media

Through the use of social media, businesses can effectively reach and engage with their target audience, driving increased brand awareness and ultimately, driving sales. We'll show you how to create your social media accounts and what strategies to use so you can boost your business.

Getting more clients
through marketing

After completing the course, and the marketing strategies you will learn, you will have no problem getting new clients. In fact, you could be spoilt for choice, as you can be inundated with offers! It's a great problem to have, and one that you can easily manage with the right skills and knowledge.

Pricing your work

Pricing artwork is a difficult task, often leaving artists feeling unsure of the value of their work. Unfortunately, many artists under-price their services, resulting in an industry-wide devaluation of art. It is essential to ensure that your services are valued correctly to ensure fair remuneration for your creativity.

Communicating
with a client

Gain the skills to effectively communicate with potential clients and explore how to build strong relationships with them. Uncover the secrets to leading successful conversations, from initial contact to closing the deal. Learn how to use the right techniques to make a positive impression and get the results you want.

Selling your service

Unlock the key to successful sales and learn about the rules of perfect presentation, what can your client's potential objections be, and how to overcome them. With our help, you'll have the knowledge necessary to confidently sell your services to clients.

Managing projects

Effective project management involves not only establishing clear timelines and milestones but also developing systems for tracking progress and making adjustments as needed to ensure that the project stays on track and meets its objectives. Our guide will provide you with the tools and strategies you need to successfully manage projects from start to finish, ensuring that you are able to deliver high-quality results on time and within budget.

Building a dream team

To be a great leader, you need to know how to delegate and build a strong organizational structure that supports your goals and values. Our guide will give you tips and strategies to help you become a more effective leader and build a successful team.
If you can dream it,
you can do it.
For who
Who should attend?
Business owner

If you already have a business but feel like you want more, this course is ideal for you. You will be able to learn new strategies, and knowledge to apply to your current business operations, allowing you to re-imagine the way you run your business. Gain the skills and expertise you need to reach your goals.

Freelancer

By taking this course, you will gain the knowledge and skills needed to become a successful business professional. You will learn how to effectively manage projects, get more clients, and develop a strategic approach to your work. All of these elements will help you grow and reach new heights in your career.

Employee

If you have no prior experience running a business or managing projects, but you have a powerful aspiration to change it, don't worry! Our course will equip you with the skills, strategies, and knowledge that you need to make your business dreams a reality – without the added stress.
Learn this
in just

few months
or spend years trying to learn it by yourself
Curriculum
The training program
12-Steps Program
Module 1 – Mindset

Lesson 1

– Introduction to the training

Lesson 2

– How to study this course to achieve the best results

Lesson 3

– Start with "why"

Lesson 4

– What is your "why"?

Lesson 5

– We are shaped by our thoughts

Lesson 6

– Limiting beliefs

Lesson 7

– Overcoming your limiting beliefs

Lesson 8

– Building your self-confidence
Module 2 – Goal Setting

Lesson 9

– What do you want from life?

Lesson 10

– Choose the system that works for you

Lesson 11

– How not to set goals?

Lesson 12

– Your long-term vision

Lesson 13

– Short and long-term planning

Lesson 14

– Win your day!

Lesson 15

– Track, measure, and adjust

Lesson 16

– Goal setting – case study
Module 3 – Time Organization 

Lesson 17

– Time is MORE valuable than money

Lesson 18

– Focus on ONE thing

Lesson 19

– How to use your time most effectively?

Lesson 20

– Prioritizing

Lesson 21

– How to plan your day?

Lesson 22

– Getting things done FAST

Lesson 23

– Techniques for time organization

Lesson 24

– Tools that help organize time
Module 4 – Sales Psychology

Lesson 25

– Theory of sales psychology

Lesson 26

– Reasons why people buy

Lesson 27

– Your client's needs

Lesson 28

– Your client's problems

Lesson 29

– Building a client avatar

Lesson 30

– Creating a marketing offer

Lesson 31

– Psychological Sales Tricks

Lesson 32

– How to create perfect ads?
Module 5 – Building a Website

Lesson 33

– Making your own website

Lesson 34

– How to set up Squarespace?

Lesson 35

– How to edit a Squarespace website?

Lesson 36

– Rules for perfect arch viz website

Lesson 37

– Copywriting

Lesson 38

– Showcase your projects in their best light

Lesson 39

– Explain the process of working with you

Lesson 40

– "Contact" page

Lesson 41

– "About Us" page

Lesson 42

– Building a blog – best way to get new clients

Lesson 43

– Last but not least – Call to Action
Module 6 – Social Media

Lesson 44

– Creating your social media page – FB, IG & LI

Lesson 45

– Strategies for growing your Facebook for free

Lesson 46

– Strategies for growing your Instagram for free 

Lesson 47

– How to use LinkedIn the correct way?

Lesson 48

– Targeting the right customers

Lesson 49

– Building a content plan + content ideas

Lesson 50

– Video, audio, or text – what's the best channel?

Lesson 51

– Product launch strategy for your service

Lesson 52

– Building a personal brand

Lesson 53

– Growth hacking – tips & tricks for growing faster
Module 7 – Marketing

Lesson 54

– What we will market to who?

Lesson 55

– Complete marketing strategy for your business

Lesson 56

– Setting up your ad account

Lesson 57

– How to track users on your website?

Lesson 58

– Creating your first ad

Lesson 59

– Retargeting Ads

Lesson 60

– How to build a perfect landing page?

Lesson 61

– Email marketing – less popular but MORE effective

Lesson 62

– Building your email list

Lesson 63

– Email automations – new clients on autopilot
Module 8 – Pricing 

Lesson 64

– False beliefs about earnings

Lesson 65

– What role do you actually do?

Lesson 66

– Fixed expenses

Lesson 67

– Hourly pricing

Lesson 68

– Project-based pricing

Lesson 69

– Value-based pricing

Lesson 70

– How to make a quote?

Lesson 71

– Visualization project pricing – example

Lesson 72

– Animation project pricing – example

Lesson 73

– Additional tips that will save you trouble
Module 9 – Client Communication

Lesson 74

– Get the right type of clients

Lesson 75

– First contact with a client

Lesson 76

– Client interview

Lesson 77

– Ask smart questions

Lesson 78

– Find out what a project budget is

Lesson 79

– Setup up meeting

Lesson 80

– Creating scripts and templates

Lesson 81

– Tools, tips & tricks
Module 10 – Selling

Lesson 82

– What is selling about?

Lesson 83

– Rules of perfect presentation

Lesson 84

– How to prepare a presentation?

Lesson 85

– How to present your prices?

Lesson 86

– Overcoming client objections

Lesson 87

– Most common client objections

Lesson 88

– Negotiations

Lesson 89

– Closing
Module 11 – Management 

Lesson 90

– How to manage a project?

Lesson 91

– Project timeline

Lesson 92

– Project revisions

Lesson 93

– Internal project management

Lesson 94

– Measure & track everything

Lesson 95

– Project tracking tools

Lesson 96

– Creating procedures

Lesson 97

– Contracts

Lesson 98

– Revenue, profit, cashflow…

Lesson 99

– Financial management in your business
Module 12 – Building a Team

Lesson 100

– I can do it better…

Lesson 101

– How much does your time cost?

Lesson 102

– Leadership

Lesson 103

– Delegating

Lesson 104

– How to hire?

Lesson 105

– Freelancer vs full-time employee

Lesson 106

– Communicating with employees

Lesson 107

– Building the organization structure

Lesson 108

– Summary and final advice
What do our students say?
Trusted by 2,000+ artists
from all over the world
Veronika Juráňová

Czech Republic
I've been working as an interior designer for a few years. But only after the Arch Viz Artist Business course I have the power to overcome the hard things standing between me and my dream to build my own company. The practical training exercises guided me in the right direction, helped me to practice what I just learned, and kept me accountable. It felt like Agnieszka is there with me every step of the way. I recommend the Business course to everyone who wants to be confident and successful, definitely worth the investment!
Adam Ambrus

Hungary
I like the Arch Viz Artist Business course very much because despite the complexity it is easy to understand. The course changed my life because I have an overall look at the archviz industry business. Through the Arch Viz Artist Business course, I get more clients than earlier and because of it, I have earned multiple the cost of the course. What I love the most about the training is that I have to work on the questions regarding the lessons and with these, I can solve my many business problems. I would highly recommend my fellow arch viz artist this Business course!
Pavlína Mojská

Slovakia
I would recommend courses from Arch Viz Artist to every new or experienced artist who wants to learn how to make realistic and professional renders. The courses are really affordable in relation to how much they offer, they are easy to follow and will surely make you a much better CGI artist.
Numbers
There's a lot of it
…more than you think.
12

Modules packed with incredible, expert-level content that will level up your skills and your business.

108

Lessons that will provide you with the necessary knowledge to develop and run a profitable business.

12

Weeks to complete the entire program, start implementing the strategies and notice the difference (estimated time).

100

+

Lifetime access! Your access will never expire because you might forget something along the way.
Is it worth it?
Do I need business
knowledge to succeed?
It has never been more imperative to gain a comprehensive understanding of business skills to stay competitive in today's ever-changing market. To be successful, it is essential to have the right knowledge and skills to run a business, no matter what the conditions. After all, business is business – and it pays to be prepared.
English is not your first language? Not a problem!
We have subtitles in selected languages:
English

(Audio + Subtitles)

Spanish

(Subtitles)

Arabic

(Subtitles)

Bengali

(Subtitles)

Chinese

(Subtitles)

French

(Subtitles)

German

(Subtitles)

Hindi

(Subtitles)

Hungarian

(Subtitles)

Indonesian

(Subtitles)

Italian

(Subtitles)

Japanese

(Subtitles)

Korean

(Subtitles)

Polish

(Subtitles)

Portuguese

(Subtitles)

Russian

(Subtitles)

Turkish

(Subtitles)
Want to learn even more?
Check out our

bestseller bundles!
With Basic Visualizations Training

2-pack bundle

1,198.00€ 998.00€ Save 200€

Buy this bundle

With Animation Training

2-pack bundle

1,198.00€ 998.00€ Save 200€

Buy this bundle

With Interior Design Training

2-pack bundle

1,198.00€ 998.00€ Save 200€

Buy this bundle
FAQ
See if you can discover the answer
here to your question!
This course is for everybody who wants to learn about the business side of the architectural visualization field. Any business knowledge is required as we teach everything that you need to know about it in this course.

It will take roughly 1 week to complete each module, in total it will take you 12 weeks* to complete an entire program.

*Please note that this course is self-paced so the time you commit during the course is up to you. You don't need to rush or make it an extremely long process – adjust it to your needs.

You will get lifetime access so you can learn at your own pace without any worries.

This course can help solve your struggles and show you the guidelines to achieve success.

However, we cannot guarantee your success. Only if you put enough time and effort into it, this has the potential to boost your career and business. It's all about implementing and executing. Sometimes you will need to make hard decisions, change your point of view or re-design your business. Without your commitment, we cannot help too much – this part depends ONLY on YOU.

A refund will not be possible, in accordance with Consumer Rights (art. 38, point 13).
We did all the heavy lifting for you
Just watch the tutorials & practice
Don't worry about anything else, the results will come naturally.
Buy Now